About Us
Established in 2016 by Eric Freitag, Freitag Solutions is a highly trusted construction company that specializes in providing comprehensive roofing services. We have over 65 years of experience in the industry, making us the first choice for our customers for roofing, apartment remodeling, window installations, sidings, and exterior renovations. We also excel in commercial build-outs, ensuring that your business space is transformed to meet your specific requirements. Our mission at Freitag Solutions is to provide our clients with the highest quality of service at the most affordable rates.
Freitag Solutions
Our Services
Testimonials
"I started my roof replacement journey in March to which Freitag Solutions, and especially Luke Olzawski, were a blessing to work with. Not only were they quick to assess the damages to my roof, they walked me through each step of the process of making a claim with my insurance.
Any time they needed to be on the call with me to talk with insurance, they were ready and prepared with photos, videos, and paperwork to make sure that insurance stayed true to approving my claim.
The entire process took some time due to my insurance company being passive with my claim, but Luke and Freitag Solutions showed the patience and due diligence to get me through the finish line. Oh and btw, the actual work that was done was excellent and I plan to use Freitag as my first line of contact for my exterior home projects.
Thanks Luke and Freitag!
"
"Guys installed a roof on my covered deck for a great price and quality work"
"Trevis made the entire process incredibly easy! My roof looks perfect! Highly recommend!! Thanks Freitag!"
"Did an amazing job on replacing our roof, gutters and downspouts as well as new gutter guards. Very reasonably priced and very responsive! Would definitely use again for any of the other services they offer!"
"Had some storm damage causing a leak on my roof. Called Luke with Freitag. Was here within a couple days and found a significant hole. Made a recommendation to the insurance company for a replacement. Insurance approved a $1300 repair (minus $1000 deductible). Luke came out 2 or 3 more times running tests and took point with the insurance company. They finally agreed to pay it all. They fought for me and replaced the roof in a timely way. Highly recommended."
"Me and my wife Amy had Freitag solutions come out and put a new roof on and I can say it was a very good decision. These guys did great work and got the job done fast.Trevis Newman kept in close contact and answered all my questions every step of the way.Anyone looking for a new roof do yourself a favor and hire this company!!!"
"I recently used freitag solutions for my roof installation and I was very pleased with the service that they provided. Byron is awesome, he helped me with everything I needed. I recommend this company to anyone who is interested."
"Freitag Solutions did an amazing job on our new roof. Very professional and on-time service at a reasonable cost. Our sales rep (Luke) was fantastic. Would highly recommend."
"After having 4 roofing companies come out to give me an estimate on replacing my roof, I went with Freitag. Luke was on time, responsive, answered my questions, and was the only company to actually go on my roof to inspect it. The estimate was fair, and the install team did a great job on the roof and on the cleanup when the job was done. Would definitely recommend Freitag if you need a new roof."
"Highly recommend! Helped us through the process with insurance, very professional and knowledgeable. Roof on single family house in Ashburn was replaced in one day (came early, done by 4pm). Cleaned up, team was very respectful of the property. More importantly team seemed to love their job! Really cannot recommend Luke and Freitag enough."
"Had Freitag Solutions redo my roof recently and they got the job done quick and efficient! Looks great. Trevis was a huge help working thru the process. Highly recommend checking with them on your next project!"
"We used this company to do our roof and they were phenomenal! The crew was very nice and quick. In and out in about 8 hours. Everything was cleaned up quick and we just love our new roof."
"We had a great experience with Trevis and his team at Freitag Solutions! Our roof wasn't able to be covered by insurance when we initially spoke but Trevis did a drive by months later and noticed some new damages. He was able to get us a new roof under our insurance. They did all the work with the insurance company and made the experience completely painless on our part. We were able to get the roof down within a week of our meeting. His team was prompt, fast, and skilled. He even came by the next day to check that all the nails and stuff was picked up on the ground around the house. We would 100% recommend them for any of your roofing needs."
"Freitag Solutions recently installed a whole new roof on our house. We had damage from wind and hail. They were extremely professional and responsive and worked directly with my insurance company for a full roof replacement. I am very happy with the services they provided and would recommend them for anyone looking for roof repair or damage."
Get a free
quote!
Write to us for a free estimation today and discover how we can
exceed your expectations with their exceptional roofing, remodeling, and renovation services.
Location
14001-C St. Germaine Dr Suite
422 Centreville VA 20121
Business Hours
Monday: Friday:9am to 5 pm
Saturday: 10am to 2pm
Sunday: Closed
Widgets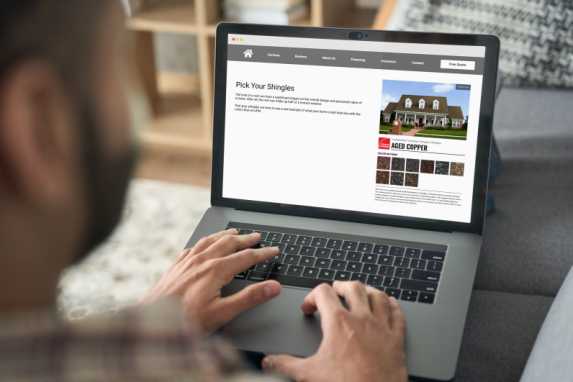 Showcase the shingle product lines you sell
Shingle Widget
Our Shingles Widget allows you to easily and beautifully showcase the Owens Corning Roofing® shingle products that you sell directly on your website. The widget will display the shingle lines you choose to include and allows your customers to easily browse product and color options without leaving your website. The widget includes all product lines and colors, including our Shingle Colors of the Year.
Seal. Defend. Breathe.
Total Protection Roofing System Widget
Showcase the Owens Corning® Total Protection Roofing System® – our integrated system of components and layers designed to help a roof perform in three critical areas: SEAL. DEFEND. BREATHE.®
Shingle and Color Pairings
Design & Inspire Style Board Widget
This widget features our Design & Inspire style boards that we created using our popular Duration® Series Shingles. These style boards let customers see shingle and color pairings that help them get the entire vibe of a design before deciding on their roof color.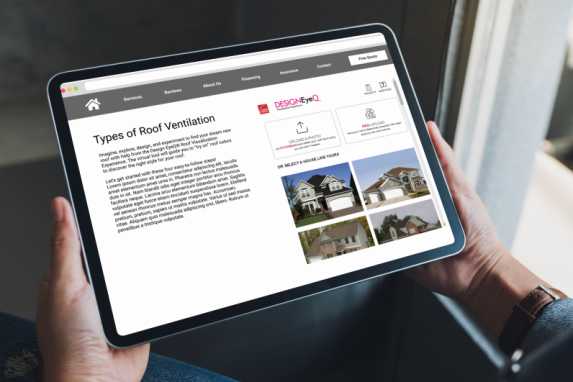 Design EyeQ® Visualization Tool
Design EyeQ® Widget
This design visualization tool allows homeowners to "try on" Owens Corning asphalt roofing shingles directly from your website.
The user can either upload their own photo or select a pre-loaded house to experiment with different shingle colors, as well as adjust the siding and trim color, to better understand how their color choice will affect the overall appearance of their home.